Introducing The Transaction Abstract, an M&A Podcast
by Redpath and Company
Subscribe to The Transaction Abstract, a New M&A Podcast from Redpath
Business transactions like mergers & acquisitions are not solo ventures. No matter which side of a transaction you are on, you should have someone you trust there with you. That is why we are launching The Transaction Abstract, a new podcast from Redpath covering all the angles of transactions.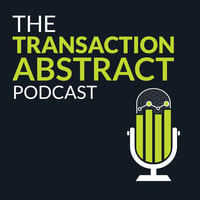 On The Transaction Abstract, host Joe Hellman cuts through the noise to answer your most important questions about buying or selling a business, like:
How do you know it is the right time to sell?
Do you really need an M&A advisor?
How can you enhance the value of your business?
What moves can decrease your value during a sale?
How can you plan for due diligence and closing?
To give a truly 360-degree view of the world of M&A, we'll be joined by industry experts with experience navigating all the ins and outs.
In our first episode, coming April 27, we are joined by Jared Rance, Managing Director of Hennepin Partners, a Minneapolis-based investment bank providing M&A advisory services and strategic advice to privately-held, family-owned, or entrepreneur-owned companies as well as private equity firms and public corporations. Jared's years of experience executing complex transactions, combined with Joe's expertise in buy- and sell-side transactions, enables discussion of why business owners should always have an M&A advisor; what that role looks like; and how they help ensure a positive, mutually beneficial business deal for all parties.
How to listen to The Transaction Abstract podcast
The first episode of The Transaction Abstract publishes Tuesday, April 27, with new episodes coming twice a month. Listen on Soundcloud and subscribe today at the links below to make sure you never miss an episode:
We are excited to leverage this new way to help businesses like yours navigate transactions. Email us at contact@redpathcpas.com with your feedback, questions, and topic suggestions on The Transaction Abstract!
SUBSCRIBE TO REDPATH INSIGHTS