Redpath Accounting Internship: Reflections
by Sean Sullivan
June 1, 2017 — We've kept up with the 10 students in our accounting internship through an intern blog series. Click here to meet our interns, and click here to read about their mid-internship thoughts.
At the end of May, all of our interns wrapped up their first busy season and complete their internships with Redpath and Company. Since they arrived in January, the interns were an important part of the Redpath team. They made friends, ate free food, and learned a lot. We checked in with them to get their thoughts on the program.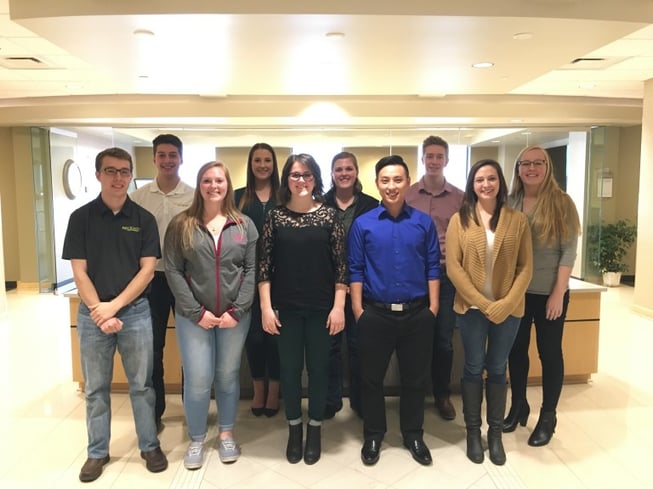 Kasha Lundell- Government
This was Kasha's second internship with Redpath and Company, she joined us for her second busy season in our government and not for profit department. After completing her bachelor's and two busy seasons, Kasha has advice for students who are just getting started. "Start looking and interviewing for internships as soon as possible! It is so important to get professional experience while still in college. I also highly recommend doing informational interviews with co-workers, management, and partners. Scheduling a 15 – 30 minute meeting can provide you with a ton of information about their career path and what recommendations they have for young professionals. Redpath eased the process of an informational interview setting by scheduling group meetings with firm leaders once a month, which provided the perfect chance to ask questions."
Kailey Wirtanen- Tax
Kailey worked as a tax intern and learned that public accounting is unique and challenging work. "I learned that public accounting can be more difficult than school makes it seem. Clients don't always send in all of the information you need and sometimes the information they send you can have a lot of mistakes that you need to fix before completing the return. The public accounting world is a lot more fast-paced than I thought it would be. The workload was insane at one point, but you learn how to be efficient as time goes on."
Paige Loibl-Tax
Paige worked in our tax department and enjoyed getting the experience of a professional accountant. "My favorite part of the internship was getting the real accounting busy season experience. The interns were set up just like the professional accountants, with our own work space and workload. Throughout the internship I had great guidance and support from the Redpath team."
Molly Sager- Tax
Molly worked in our tax department and learned that time management is key when you're working busy season hours. "The professional world is a lot different than college. The most important thing I learned is how to manage my time and workload while not burning myself out when working long hours."
McKenzie Hofmann- Government/Not for Profit
McKenzie worked on the government and not for profit team. She worked on government entities and not for profit organizations and spent time in the field getting to know her clients. She enjoyed the level of experience she received. "I enjoyed the amount of experience I was able to gain. Going to class and learning about the material is so much different than actually applying it to real life situations. I also think that by doing an internship in government audit I now know a lot more than I had previously about governmental entities and how they operate."
Dylan Vue- Tax
After interning in our tax department, Dylan has advice for younger students who are interested in the public accounting industry, "I would tell younger students interested in public accounting that it is as challenging as people say it is. But if you enjoy overcoming those challenges, give public accounting a try."
Brody Johnson- Tax
Brody worked in the tax department and learned that your work environment can make or break your experience. "It's important to find a place where you enjoy the work atmosphere and the people. That can be a huge impact on your experience in public accounting."
Ashley Gruber- Commercial Audit
Ashley interned in our commercial audit department, where she learned that no two clients are alike. "No two clients are alike. Over the internship I have learned that public accounting will provide you with an array of clients and that will help build your knowledge. In a medium sized accounting firm like Redpath you will be provided a variety of clients to work on. In a bigger firm, you might not get the same opportunity. I think it's really beneficial to work at a mid-sized firm and gain experience.
Dan Thaldorf- Tax
Dan was a tax intern and learned that he enjoyed the challenging work. "My favorite part of the internship was how fun I actually found it to be. I tend to like a challenge and each return gave that opportunity."
Chris Sigurdson- Government/Not for Profit
Chris spent four months working with our government and not for profit team. He learned that public accounting is a rewarding career path. "I learned that accounting is a busy yet rewarding profession. I like how much there is to learn. Every week, and even every day, there is something new for you to learn."
Thank you interns for all of your hard work this busy season!